Mosel-Landhaus Hotel Oster KG
Moselweinstrasse 61 – 63
56814 Ediger–Eller
Phone: 02675 232
Fax: 02675 1570
E-Mail: info@hotel-oster.de
Opening Times
1. April – 28. November 2021 every day except tuesdays.
We are to be found on the righthand side of the Moselle only 6 Km from Cochem in the direction of Trier.
The Motorway A48 (Koblenz-Trier) is the best route into the Cochemer Holiday countryside. Please leave the Motorway at the KAISERSESCH exit and follow the signs to Cochem and then further in the direction of Zell.
The route from the Ruhr-valley/Cologne/Bonn runs over the Motorway A3 or A61 in the direction of
Coblenz. Guests from the Frankfurt area also use the A3 (in the direction of Cologne)
Ediger-Eller can be reached via the A1 (direction Trier) and then the A48 (direction Coblenz) if you arrive from the Saarbrücken area.
Our Tip: If you would like to have the Moselle countryside slowly but surely take command of your senses, then choose the route alongside the river.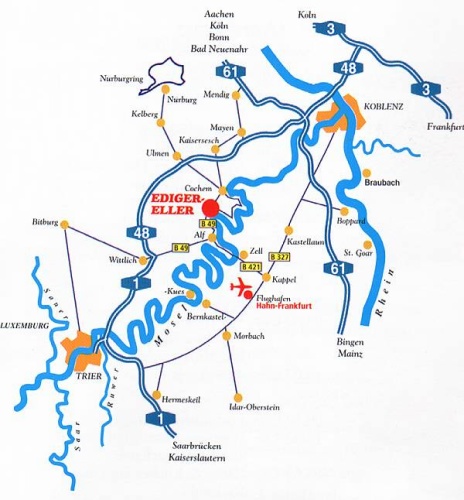 You can find a privat parking lot in the back of the Hotel as well as one in front of the Hotel.